We're playing Turboslut's last show. Should be way sweet! Sweat Lodge and Sinola are on the bill as well. Starts at 10 as most Nara show's do. Going to be epic.
We're playing a benefit on the 9th of April for our friends who lost their homes recently. A
fire
broke, but luckily no person was injured.
We'll be playing with Wanli, and The Gagged, both are dear friends of mine, so I'm really excited.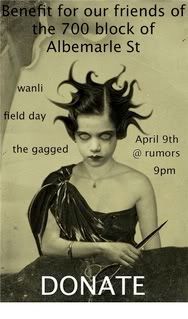 Jon